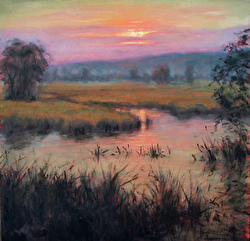 Moose Creek 18x18 oils on canvas
This month, Cole Gallery's featured artists are Amanda Houston and Michael Orwick. Both reside in our southern neighbor, Oregon, and both paint beautiful Northwest landscapes filled with grace and insight.
Michael Orwick creates oil paintings that are glowing dialogues of light. He allows his passion for nature to work its way into each piece. . His work hints at a story and it is what he leaves untold that that engages the viewer in the creative process of storytelling. Michael says, "It is what I leave untold that I hope grabs you. It's the quiet space that allows our brains to wander and wonder. I invite you to become part of the paintings, and make their stories your own."
Amanda Houston grew up on three continents. Inspired by much of the world, she is able to create pastel paintings that capture the beauty of the landscapes that surround her. Of her painting, Amanda says, "Viewing and painting meditative landscapes allows me to find a more balanced center and revel in the beauty that exists around us. Sharing these emotional connections visually, by painting beautiful paintings is what my art is about."
You can meet these two fantastic artists and view their new paintings on Thursday, October 20, at Cole Gallery from 5pm to 8pm. Come and enjoy refreshments and music by FaDa DaDa.
For additional information on Michael Orwick and to see images of his work ... www.MichaelOrwick.com on Facebook ... http://www.facebook.com/MichaelOrwickArts